NYSTATIN
Comycin; Myco-Triacet II; Mycolog II; Mytrex; Nystaform; Nystaform-HC; Terrastatin; Biofanal; Candex; Diastatin; Fungicidin; Herniocid; Korostatin; Moronal; Myconystatin; Mycostatin; Mykinac; Mykostatyna; Nilstat; Nistatin; Nistatina; Nistatina; Nyamyc; Nyotran; Nystan; Nystatin; Nystatine; Nystatinum; Nystatyna; Nystatyna; Nystavescent; Nystex; Nystop; O-V Statin; Stamycin; Zydin E; (1S,15S,16R,17R,18S,19E,21E,25E,27E,29E,31E)-33-[(2S,3S,4S,5S,6R)-4-amino-3,5-dihydroxy- 6-methyloxan-2-yl]oxy-1,3,4,7,9,11,17,37-octahydroxy-15,16,18-trimethyl-13-oxo-14, 39-dioxabicyclo[33.3.1]nonatriaconta-19,21,25,27,29, 31-hexaene-36-carboxylic acid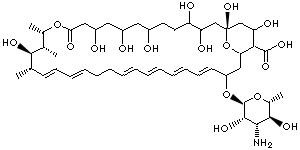 PRODUCT IDENTIFICATION

CAS RN

1400-61-9

EINECS RN

215-749-0

FORMULA

C

47

H

75

NO

17

MOLE WEIGHT

926.09

H.S.CODE

2941.90.1010

CLASSIFICATION

Polyene antifungal, Antibacterial, Anti-Infective, Ionophore

EXTRA NOTES

Macrolide antifungal antibiotic complex produced by Streptomyces noursei, S. aureus, and other Streptomyces species. The biologically active components of the complex are nystatin A1, A2, and A3.
Used as a fungal membrane (ergosterol binding) pore forming agent and to create nystatin/ergosterol based ion channels in lipid bilayers. Used as a lipid raft-inhibiting reagent and membrane associated cholesterol.
Mode of Action: Increases the permeability of the cell membrane of sensitive fungi by binding to sterols. Antimicrobial spectrum: Yeasts and molds.
PHYSICAL AND CHEMICAL PROPERTIES

PHYSICAL STATE

white to off-white powder

MELTING POINT

BOILING POINT

DENSITY

SOLUBILITY IN WATER

Partially soluble (360 mg/l)

pH

VAPOR DENSITY

REFRACTIVE INDEX

FLASH POINT
STABILITY AND REACTIVITY

STABILITY

Stable under normal conditions.

INCOMPATIBLE MATERIALS

Strong oxidizing agents

DECOMPOSITION PRODUCTS

Carbon oxides, nitrogen oxides

POLYMERIZATION

Has not been reported

NFPA RATINGS

Health:1 , Flammability:0 , Reactivity:0
SAFETY

HAZARD NOTES

EYE

May cause eye irritation.

SKIN

May be harmful if absorbed through skin. May cause skin irritation.

INGESTION

May be harmful if swallowed.

INHALATION

May be harmful if inhaled. May cause respiratory tract irritation.

CHRONIC
TRANSPORT & REGULATORY INFORMATION

UN NO.

HAZARD CLASS

PACKING GROUP

HAZARD SYMBOL

XI

RISK PHRASES

36/37/38

SAFETY PHRASES

26-36
EXTERNAL LINKS &
GENERAL INFORMATION
Nystatin is an antibiotic which is both fungistatic and fungicidal in vitro against a wide variety of yeasts and yeast-like fungi, including Candida albicans, C. parapsilosis, C. tropicalis, C. guilliermondi, C. pseudotropicalis, C. krusei, Torulopsis glabrata, Tricophyton rubrum, T. mentagrophytes. Nystatin acts by binding to sterols in the cell membrane of susceptible species resulting in a change in membrane permeability and the subsequent leakage of intracellular components. On repeated subculturing with increasing levels of nystatin, Candida albicans does not develop resistance to nystatin. Generally, resistance to nystatin does not develop during therapy. However, other species of Candida (C. tropicalis, C. guilliermondi, C. krusei, and C. stellatoides) become quite resistant on treatment with nystatin and simultaneously become cross resistant to amphotericin as well. This resistance is lost when the antibiotic is removed. Nystatin exhibits no appreciable activity against bacteria, protozoa, or viruses. Nystatin interacts with 14-α demethylase, a cytochrome P-450 enzyme necessary for the conversion of lanosterol to ergosterol. This results in inhibition of ergosterol synthesis and increased fungal cellular permeability. ( http://www.drugbank.ca/)
Similar to other polyene antifungal agents, nystatin binds to ergosterol in the fungal membrane. This binding disrupts osmotic integrity of the fungal membrane, resulting in leakage of intracellular potassium, magnesium, sugars, and metabolites and then cellular death. The lipid carrier of liposomal nystatin does not change this basic mode of action ( http://www.doctorfungus.org/)
Ionophore is a relatively small hydrophobic molecule that facilitates the transport of ions across lipid membranes. Most ionophores are produced by microorganisms. There are two types of ionophores: channel formers, which combine to form a channel in the membrane through which ions can flow; and mobile ion carriers, which transport ions across a membrane by forming a complex with the ion. (http://www.ktf-split.hr/)
| | |
| --- | --- |
| Ionophores | |
| Product | CAS RN. |
| 2,4-Dinitrophenol | 51-28-5 |
| 4-Nonadecylpyridine | 70268-36-9 |
| Alamethicin | 27061-78-5 |
| Beauvericin | 26048-05-5 |
| Calcimycin | 52665-69-7 |
| Calixarene | 130036-26-9 |
| Carbonyl cyanide m-chlorophenyl hydrazone | 555-60-2 |
| Carbonyl cyanide p-trifluoromethoxyphenylhydrazone | 370-86-5 |
| Crown ethers | |
| | 1405-97-6 |
| Ionomycin calcium | 56092-82-1 |
| Ionomycin | 56092-81-0 |
| Lasalocid | 25999-31-9 |
| Monensin | 17090-79-8 |
| N,N-Dioctadecylmethylamine | 4088-22-6 |
| Nigericin | 28380-24-7 |
| Nigericin sodium | 28643-80-3 |
| Nonactin | 6833-84-7 |
| Nystatin | 1400-61-9 |
| Okadaic acid | 78111-17-8 |
| Salinomycin | 53003-10-4 |
| Valinomycin | 2001-95-8 |
SALES SPECIFICATION

APPEARANCE

white to off-white powder

ASSAY

4400µg/mg min

LOSS ON DRYING

5.0% max

pH

6.0 - 8.0