BACITRACIN ZINC
Synonyms. Bacitracin zinc; Cortisporin; Neo-Polycin; Neobacimyx; Neosporin; Polysporin; 4-((2-((2-(1-amino-2-methylbutyl)-4,5-dihydro-1,3-thiazole-4-carbonyl)amino)-4-methylpentanoyl) amino)-5-((1-((3-(2- amino-2-oxoethyl)-18-(3-aminopropyl)-12-benzyl-15-butan-2-yl-6- (carboxymethyl)- 9-(4H-imidazol-4-ylmethyl)-2,5,8,11,14,17,20-heptaoxo-1, 4,7,10,13,16, 19-heptazacyclo pentacos-21-yl)amino)-3-methyl-1-oxopentan-2-yl)amino)-5- oxopentanoic acid zinc salt; Bacitracina; Bacitracine; Bacitracinum;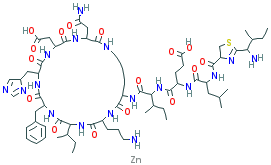 PRODUCT IDENTIFICATION

CAS RN

1405-89-6, 1405-87-4 (parent)

EINECS RN

215-787-8

FORMULA

C66H101N17O16SZn

MOLE WEIGHT

1486.07

H.S CODE

2941.90.1050

SMILES

[Zn].CC[C@@H](C)[C@@H](N)C1=N[C@@H](CS1)C(=O)N[C@@H] (CC(C)C) C(=O)N[C@@H](CCC(O)=O)C(=O)N[C@@H]([C@@H](C)CC)C (=O)N[C@@ H]1 CCCC NC(=O)[C@@H](CC(N)=O)NC(=O)[C@@H](CC(O)= O)NC(=O )[ C @ @H](C[C@@H]2C=NC=N2)NC(=O)[C@@H](Cc2ccccc2) NC(=O)[ C@ @H](NC(=O)[C@@H](CCCN)NC1=O)[C@@H](C)CC

CLASSIFICATION

Antibacterial, Anti-Infective, Polypeptide antibiotic

EXTRA NOTES

A complex of cyclic peptide antibiotics produced by the Tracy-I strain of Bacillus subtilis. The commercial preparation is a mixture of at least nine bacitracins with bacitracin A as the major constituent. It is used topically to treat open infections such as infected eczema and infected dermal ulcers. (From Goodman and Gilman, The Pharmacological Basis of Therapeutics, 8th ed, p1140)
TSCA Definition 2008: A complex combination of polypeptides produced by the metabolic processes of Bacillus subtilis and licheniformis.
EPA Pesticide Chemical Code 006309;
Other RN: 1405-75-0, 8028-08-8, 8028-35-1, 8058-81-9, 11031-59-7, 73560-74-4, 92528-87-5, 12640-37-8, 60454-67-3
PHYSICAL AND CHEMICAL PROPERTIES

PHYSICAL STATE.

white crystalline powder

MELTING POINT

250 C (Decomposes)

BOILING POINT

DENSITY

SOLUBILITY IN WATER

5.1 g/l

SOLVENT SOLUBILITY

6.55 g/l methanol, 2.0 g/l ethanol

VAPOR DENSITY

log P(octanol-water)

-0.91

VAPOR PRESSURE

AUTOIGNITION TEMP

pH

6 ~ 7

REFRACTIVE INDEX

FLASH POINT
STABILITY AND REACTIVITY
STABILITY

Stable under normal conditions. Hygroscopic and light sensitive

INCOMPATIBLE MATERIALS

Strong oxidizing agents

POLYMERIZATION

Has not been reported

NFPA RATINGS

Health: 3,Flammability: 0, Reactivity: 1
EXTERNAL LINKS & GENERAL DESCRIPTION
Wikipedia Linking - Bacitracin
Google Scholar Search - Bacitracin zinc
Drug Information Portal (U.S. National Library of Medicine) - Bacitracin
PubChem Compound Summary - Bacitracin zinc
Drug Bank - Bacitracin
KEGG (Kyoto Encyclopedia of Genes and Genomes) - Bacitracin
http://www.ebi.ac.uk/ - Bacitracin
http://www.ncbi.nlm.nih.gov/ - Bacitracin zinc
http://mic.sgmjournals.org/
Mechanisms of Antibacterial Action of Bacitracin = At minimal bacteriostatic concentrations, bacitracin had four distinct actions on Staphylococcus aureus: (a) prevention of growth; (b) induction of lysis; (c) suppression of induced enzyme synthesis; (d) stimulation of the reduction of 2,3,5-triphenyltetrazolium chloride. In contrast, penicillin and cycloserine had activities (a) and (b) but neither (c) nor (d), and chloramphenicol had activities (a) and (c) but neither (b) nor (d). With bacitracin, properties (a) and (b) but neither (c) nor (d) were enhanced by Zn2+; other metal ions were inactive. Sequential inactivation of bacitracin by autoclaving revealed that the bacteriostatic property was quite labile whereas the other three activities were more heat resistant. Thus, although several distinct mechanisms have been demonstrated whereby bacitracin can injure bacterial cells, the present data do not indicate which of these, if any, is associated with the primary biochemical lesion that results in suppression of growth.
http://www.pnas.org/
Mechanism of Action of Bacitracin: Complexation with Metal Ion and C55-Isoprenyl Pyrophosphate = Bacitracin is an antibiotic produced by strains of Bacillus licheniformis. It is a mixture of closely related compounds, the main component of which (bacitracin A) is a cyclic polypeptide with a peptide side chain (Fig. 1) (1-3). An unusual feature of the structure is the occurrence of a thiazoline ring formed between the L-cysteine and L-isoleucine residues at the N-terminal end of the acylic peptide side-chain. The free amino group of iisoleucine at the N-terminal end is adjacent to the thiazoline ring and is essential for antimicrobial activity. The transformation of bacitracin A to bacitracin F (in which the amino group is replaced by a carbonyl group) results in total loss of antimicrobial activity.
http://www.sigmaaldrich.com/
Application:Bacitracin is used to study the disruption of bacterial cell wall synthesis at the level of peptidoglycan biosynthesis and isoprenyl metabolism. Used to study the biosynthesis of sterols and squalene.
SALES SPECIFICATION

APPEARANCE

white crystalline powder

POTENCY

65IU/mg min (on dried substance base)

SUM OF BACITRACINS

70.0% min (A,B1,B2, B3)

BACITRACIN A

40.0% min

ZINC

4.0% ~ 6.0%

EARLY ELUTING PEPTIDES

20.0% max

BACITRACIN F

6.0% max

LOSS ON DRYING

5.0% max
TRANSPORT & REGULATORY INFORMATION

UN NO.

Not regulated

HAZARD CLASS

PACKING GROUP
SAFETY INFORMATION

HAZARD OVERVIEW

May cause allergic skin reaction. Hygroscopic (absorbs moisture from the air). May cause kidney damage. May cause eye, skin, and respiratory tract irritation. Target Organs: Kidneys. Eye: May cause eye irritation. Skin: May cause skin irritation. May be harmful if absorbed through the skin. May cause allergic sensitization in certain individuals. Ingestion: May cause irritation of the digestive tract. May be harmful if swallowed. Inhalation: May cause respiratory tract irritation. May be harmful if inhaled. Chronic: May cause kidney damage.

GHS

SIGNAL WORD

Warning

PICTOGRAMS

HAZARD STATEMENTS

H402

P STATEMENTS