D-HOMOCITRULLINE
Synonyms. D-Homocitrulline; (R)-2-Amino-6-ureidohexanoic acid; N6-(Aminocarbonyl)-D-lysine; (2R)-2-Ammonio-6-(carbamoylamino)hexanoate; (2R)-2-Amino-6-(carbamoylamino)hexanoic acid; H-D-HCit-OH;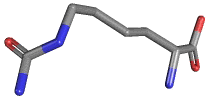 PRODUCT IDENTIFICATION

CAS RN

121080-96-4

EINECS RN

FORMULA

C7H15N3O3

MOLE WEIGHT

189.21

H.S CODE

2924.19.1150

SMILES

C(CCNC(=O)N)CC(C(=O)O)N

CLASSIFICATION

Amino acid

EXTRA NOTES
PHYSICAL AND CHEMICAL PROPERTIES

PHYSICAL STATE.

white to off-white crystalline powder

MELTING POINT

194 C

BOILING POINT

392 C

DENSITY

1.24

SOLUBILITY IN WATER

SOLVENT SOLUBILITY

VAPOR DENSITY

log P(octanol-water)

VAPOR PRESSURE

AUTOIGNITION TEMP

pK

REFRACTIVE INDEX

FLASH POINT
STABILITY AND REACTIVITY
STABILITY

Stable under normal conditions.

INCOMPATIBLE MATERIALS

Strong oxidizing agents, Strong acids, Strong bases

POLYMERIZATION

Has not been reported

NFPA RATINGS

Health: 1, Flammability: 1, Reactivity: 0
EXTERNAL LINKS & GENERAL DESCRIPTION
SALES SPECIFICATION

APPEARANCE

white to off-white crystalline powder

ASSAY

98.5% min

MELTING POINT

195 ~ 201 C

LOSS ON DRYING

0.5% max
TRANSPORT & REGULATORY INFORMATION

UN NO.

HAZARD CLASS

PACKING GROUP
SAFETY INFORMATION

HAZARD OVERVIEW

GHS (Globally Harmonised System) Classification: Acute toxicity (Oral). Skin irritation. Serious eye damage. Specific target organ toxicity - single exposure.

SIGNAL WORD

Warning

PICTOGRAMS

HAZARD STATEMENTS

H315 Causes skin irritation.
H319 Causes serious eye irritation.
H335 May cause respiratory irritation.

PRECAUTIONARY STATEMENTS

P261 Avoid breathing dust/fume/gas/mist/vapours/spray.
P305 + P351 + P338 IF IN EYES: Rinse cautiously with water for several minutes. Remove contact lenses, if present and easy to do. Continue rinsing.

EC DIRECTIVES

HAZARD CODES

RISK PHRASES

36/37/38 Irritating to eyes, respiratory system and skin

SAFETY PHRASES

16 Keep away from sources of ignition - No smoking
26 In case of contact with eyes, rinse immediately with plenty of water and seek medical advice
36 Wear suitable protective clothing.
PACKING
Preserve in light-resistant and well-closed containers